Mather & Co will use their expertise in heritage and place making to design and build the site's new visitor experience. They will interpret the many stories that this internationally significant collection of historic buildings has to tell, and develop an interactive and engaging scheme which will give visitors an exciting and uniquely memorable experience.
Built in 1797, Shrewsbury Flaxmill Maltings is known as the grandparent of the modern day skyscraper. Its pioneering cast iron frame was the first of its kind in the world and paved the way for the development of skyscrapers we see across our city skylines today.
Operating as a flax mill for almost a century, workers spun flax into linen thread at this historic site before the industry declined and the mill closed its doors. It was then converted into a maltings, producing malt for the brewing industry for almost another century before closing for the final time in 1987 and falling into disrepair.
Duncan Wilson, Chief Executive of Historic England said:
"This special site is the product of an innovative leap and a collaborative approach which allowed bold new ideas to evolve and be put into practice. We're looking forward to working with the Mather & Co team in a similar vein as they help us to develop a thriving visitor attraction which will engage the community and inspire visitors to return to site again and again."
Site owners, Historic England are currently regenerating Shrewsbury Flaxmill Maltings as a hub for the community; a place where people can work, play, learn and live. The Main Mill and Kiln buildings are currently being restored. The upper floors of the Main Mill will be transformed into unique office spaces and the ground floor will become a vibrant visitor experience and café, to be operated by project partners, the Friends of the Flaxmill Maltings.
Cllr Alan Mosley and Marianne Blaauboer, Chair and Manager of the Friends of the Flaxmill Maltings said:
"We are delighted to have the opportunity of working with Mather and Co to create a world class visitor experience and a tremendous asset for the community within this internationally important site. Many thanks go to site owners Historic England and to our funders, The National Lottery Heritage Fund, for great collaborative work in making this possible."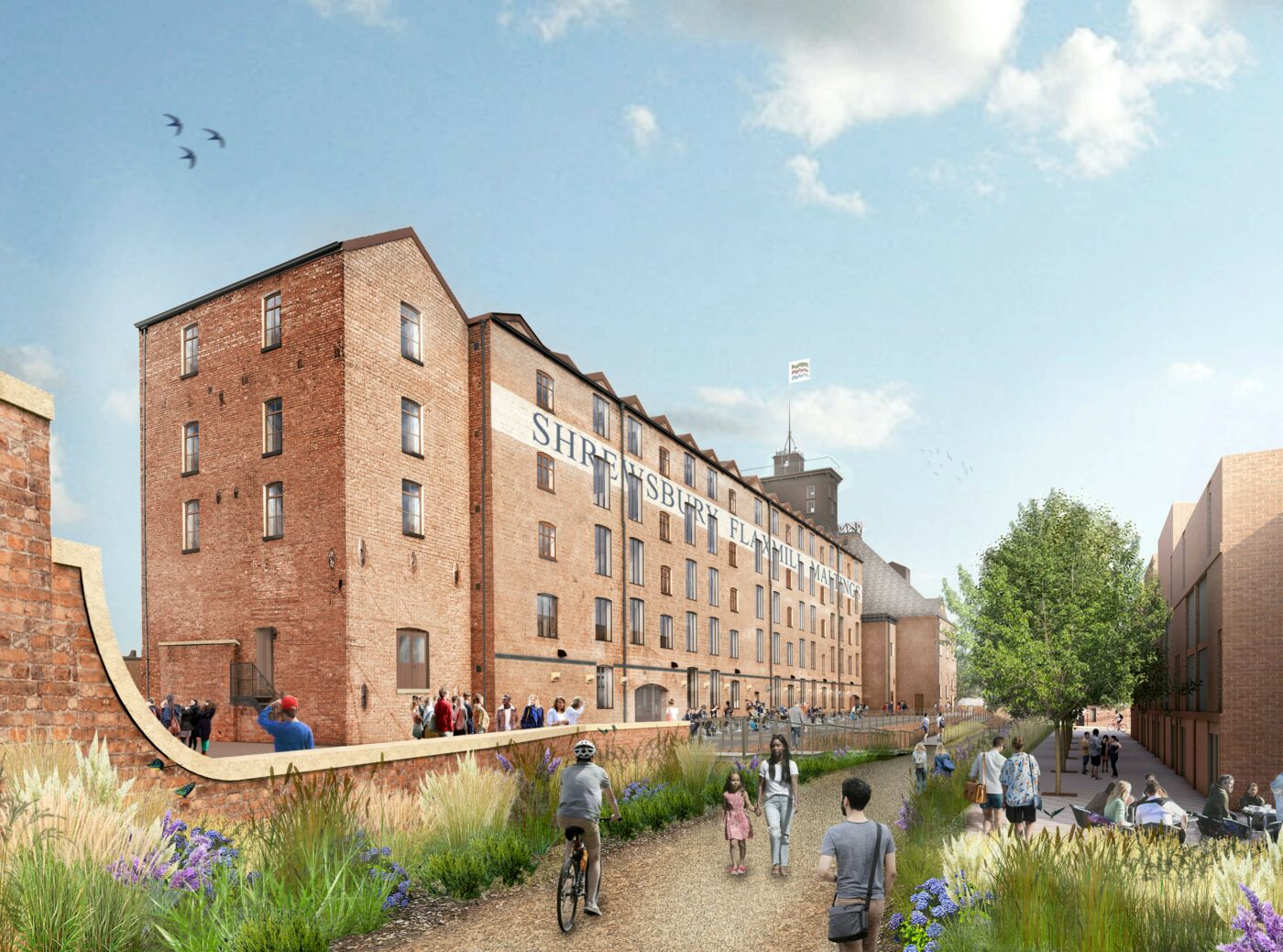 Mather & Co will develop a range of engagement opportunities and active interpretation on site celebrating the heritage of innovation at Shrewsbury Flaxmill Maltings and the historical, technological and social significance of the site.
Sarah Clarke, Managing Director at Mather & Co said:
"We are excited to get started on this truly transformational project at Shrewsbury Flaxmill Maltings. The building has an incredible story to tell over two hundred years and we are looking forward to bringing that history and innovation to life for the surrounding community and visitors to the town."
The restoration of the Grade I listed Main Mill and the Grade II Kiln at Shrewsbury Flaxmill Maltings is now underway thanks to a £20.7m grant from National Lottery players through The National Lottery Heritage Fund, combined with additional funding from the Marches Local Enterprise Partnership via its Growth Deal with Government, and from project partners Historic England, Shropshire Council and the Friends of the Flaxmill Maltings.
Anne Jenkins, Director, England, Midlands & East at The National Lottery Heritage Fund, said:
"Being the world's first iron-framed building and a precursor to the skyscrapers of today, Shrewsbury Flaxmill Maltings is an incredibly significant heritage site. Thanks to National Lottery players, we're very proud to be able to support the restoration of the site, and are delighted to see that it has reached a noteworthy milestone in the progress of this incredibly important project for UK heritage."
The new visitor experience at Shrewsbury Flaxmill Maltings will open in spring 2022.