We knew our work with the Paralympic Trust had the potential to become a benchmark for accessible design in the industry, so we embraced this opportunity to learn and worked closely with Paralympians to ensure our design offered an engaging, fully accessible and inspirational exhibition for everyone to enjoy.
90%
of users felt that this exhibition was the most accessible they had visited in the UK.
The exhibitions showcase the incredible work of Sir Ludwig Guttmann, the founder of the Paralympics, who dedicated his career to improving the lives of those with spinal injuries. The permanent exhibition includes his teaching slides, medical case and his bust.
A timeline celebrates seven decades of Paralympic moments using memorabilia, medals, photographs and sports kit to follow the sports competition as it gained global recognition.
"The Heritage Centre is of the highest quality. Everyone, bar none, has been most complimentary about it. It is beautifully designed."
Nigel Purse, Chairman of the National Paralympic Heritage Trust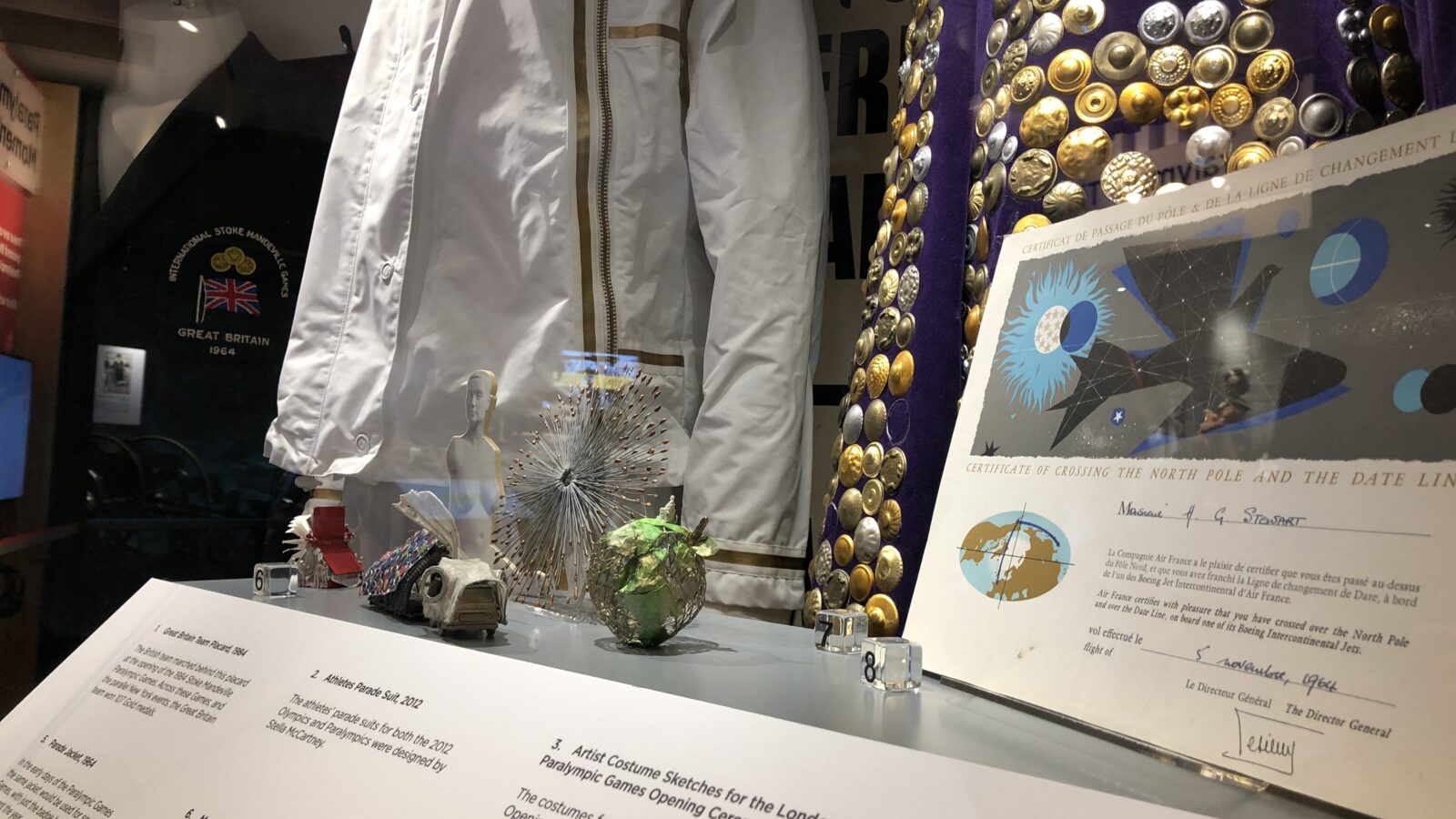 It doesn't end there. The permanent exhibition was so successful, that we created a regional exhibition that now travels across the UK and focuses on great Paralympic stories from different regions. So far, the exhibition has toured to Norwich Cathedral, Bradford Cartwright Hall, Cliffe Castle Museum and Gunnersbury Park and there is more to come as we revisit the legacy of the 2012 Paralympic Games in 2022.
We also gave a little back to Stoke Mandeville Hospital where Guttmann's spinal injury unit was founded. A small exhibition installation within the hospital grounds tells its pioneering medical history and celebrates its role in founding the Paralympics – and serves to inspire patients as they undergo rehabilitation.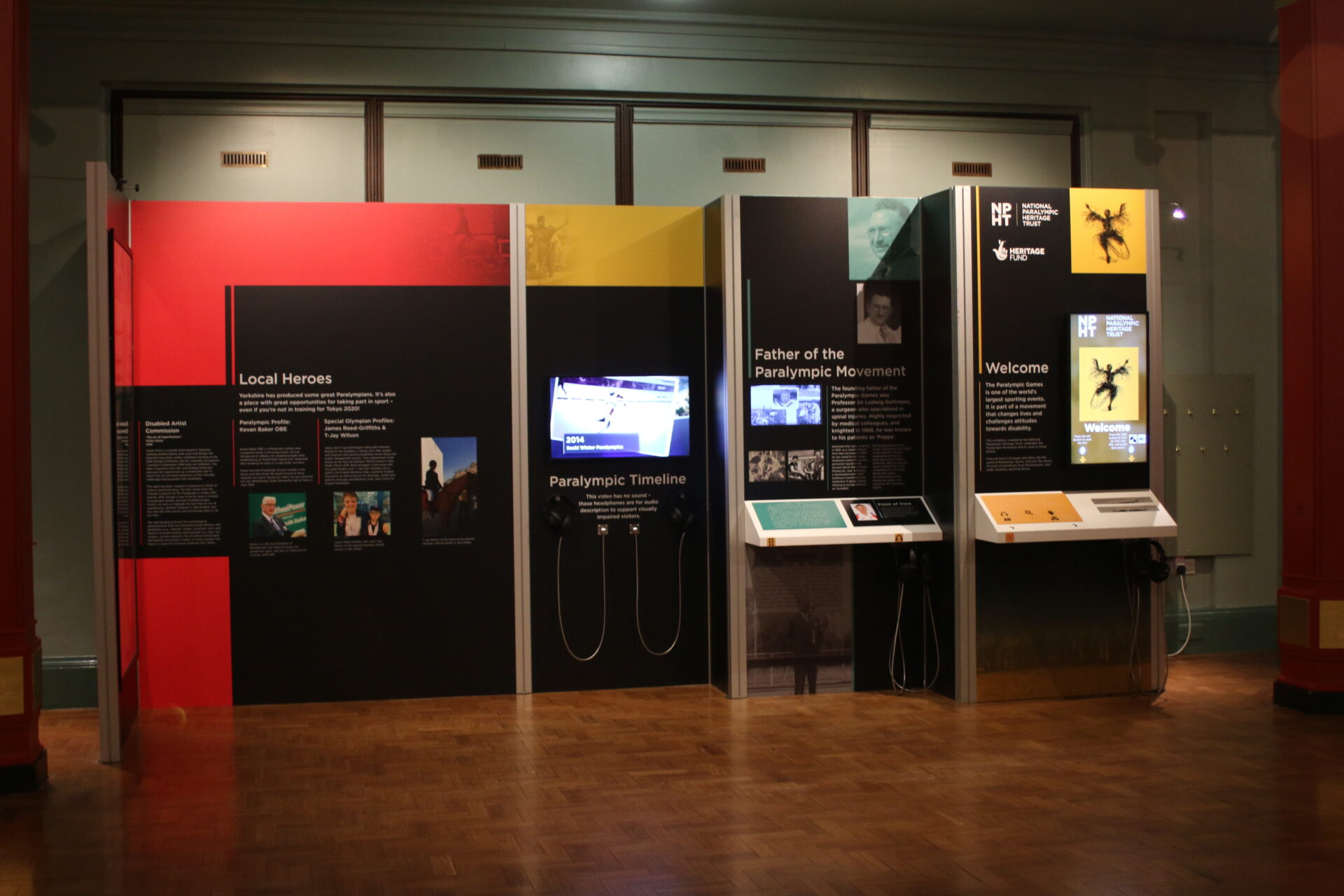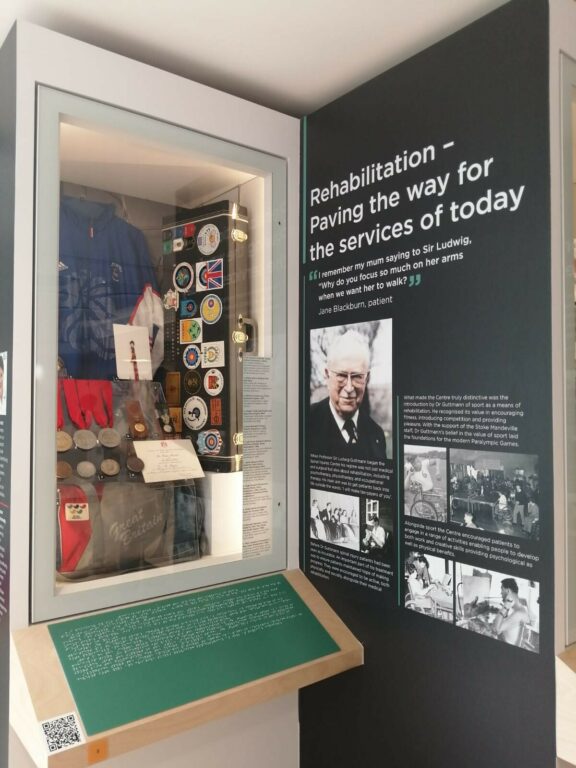 We want everyone to take something from these experiences, so we worked with the Trust to make the interpretation as accessible as possible. Visitors can read braille, subtitles, BSL, hear information and description or even download the information by QR code for personal access.
We designed a tactile map and handrails that work together to support people as they navigate their way around the space. Using textures to represent themes, visitors can easily identify when they are moving into a new zone. We found that handrails set at 75 degrees were the perfect angle for visitors to comfortably use to touch-tactiles and read braille, so this became a key feature in the exhibition design.
All our graphics are DDA compliant with guide lines along the side of the text to assist visually impaired readers. We worked with specialists in tactile graphics to create 3D symbols, imagery and braille across the exhibition to help people identify what is in front of them, or to imagine shapes and decoration.