St Albans Cathedral is one of the oldest Christian sites in Britain so working within this precious fabric was a challenge, but one we are experienced in. We had to carefully consider the integration of the new interpretation within the cathedral, using design and materials in a clever way, so the fabric of this historic building remained at the fore and continued to support the public services it performs every day.
The new interpretation was designed to engage with new audiences. We layered the information and engagement across the site and included a mix of sensory, tactile and audio-visual projections for everyone to enjoy.
"We've never been able to tell our stories in such a beautiful and interesting way. I think it's a step change for St Albans."
Stephen De Silva, Chairman of the Interpretation Committee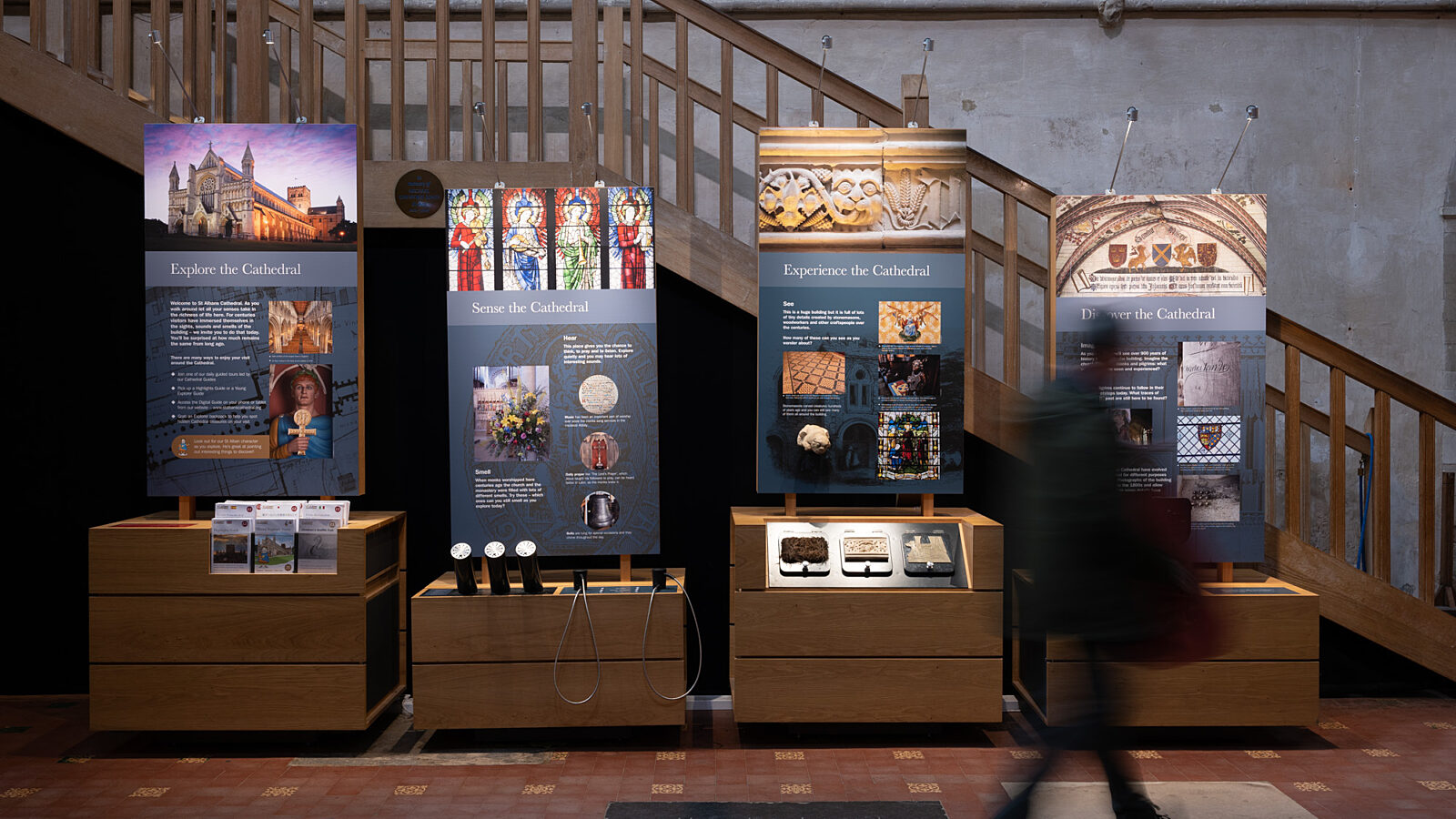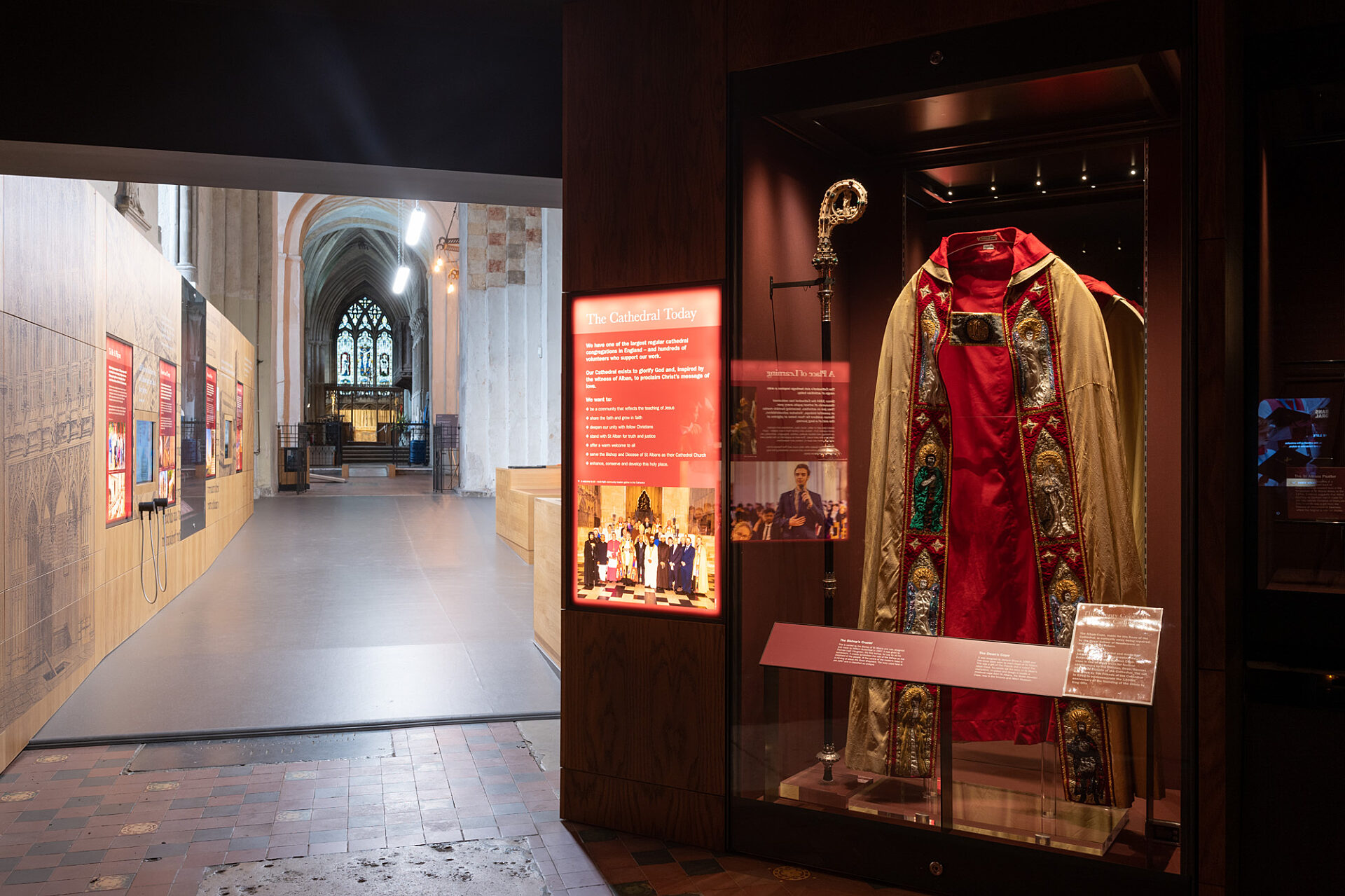 In the Welcome Centre an impressive digital timeline provides a top-level introduction of the site and 'What's On' information. This allows visitors to choose what interests them on site and pick up any materials needed to help them on their journey.
A new interpretative area in the South Transept introduces the discovery of the Cathedral and orientates visitors for their visit. We included a place where digital guides and backpacks can be handed out for trails across the building.
"There was so much history and materials - but the stories were interpreted beautifully."
The Revd Dr Kevin Walton, Canon Chancellor of St Albans Cathedral
The Treasury Exhibition was designed to tell a deeper story, chronicling the history of the Cathedral and St Alban on a striking oak timber structure in the space complete with digital touchscreens, physical interactives and display cases.
Display cases show liturgical costumes and other religious artefacts – with a costume activity associated with it. This means younger visitors can dress up and take selfies to use on social media, widening the target audience.
In the main nave, we introduced new cutting-edge projection mapping to reveal the original medieval wall paintings. These originally made pilgrims "fall to their knees" and have been recreated at the Cathedral for the first time in nearly 500 years. The new colour images are projected over what is left of the original paintings on the walls creating a magical experience.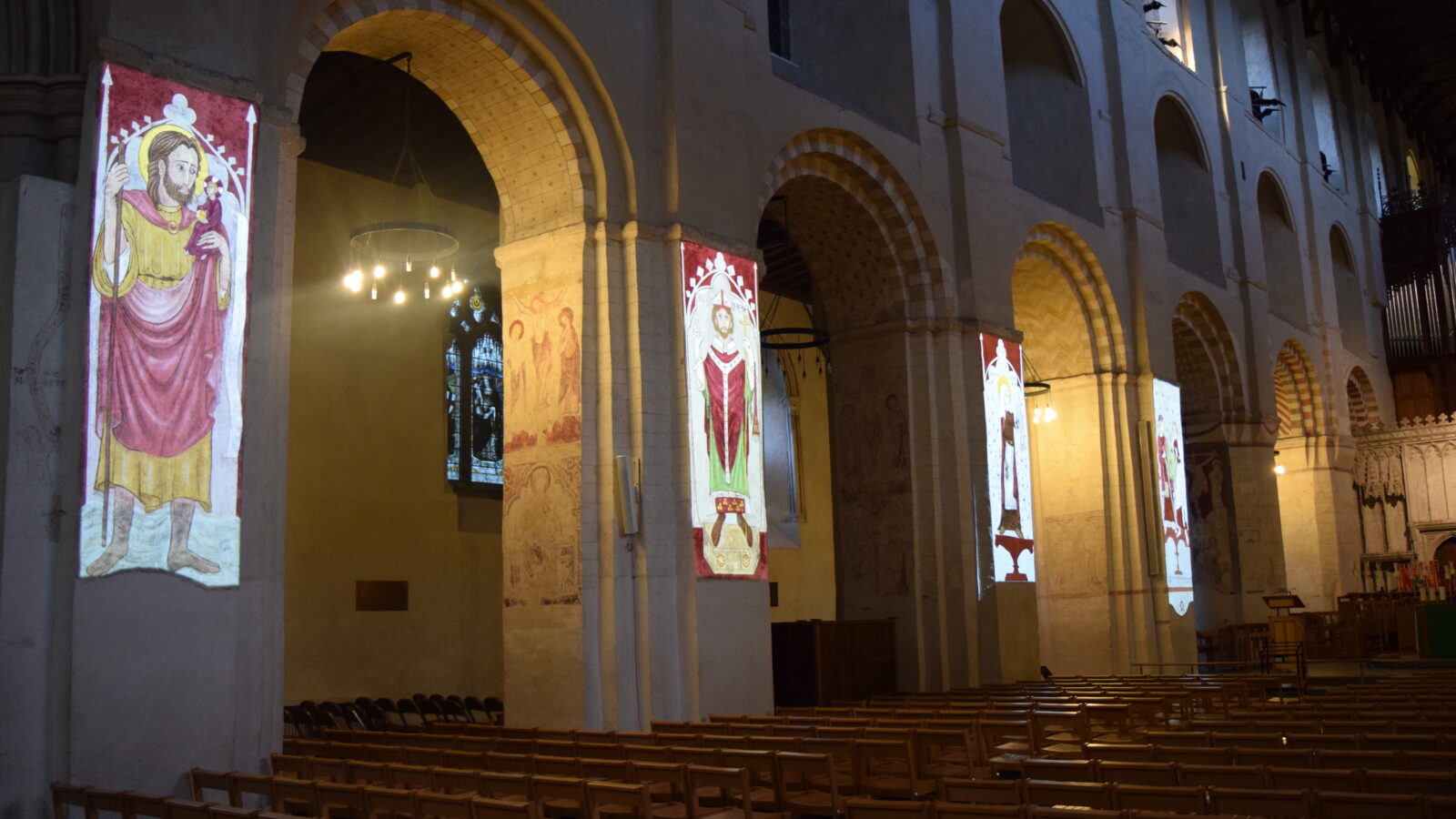 3D map tables are sited at key points in the grounds as both orientation and to reveal lost buildings on the Cathedral grounds. The tactile nature of these displays allows them to engage with all users, and offer necessary access for visually impaired visitors.
The external interpretation is focused on orientating visitors to the new Welcome Centre and encourages them to engage with the building and wider site. Graphic posts provide orientation at the main entry points to the Cathedral grounds and highlight features of the building.