We wanted the exhibition to be an interactive space for learning, to encourage visitors to connect to and celebrate the science, engineering and ingenuity of Sir Humphry Davy and his flame safety lamp, which evolved to save miners' lives.
50
lamps on display in the Illumination Gallery.
At the centre of this are the miners and the mining families, so we thought it was important to hear their stories of why the Davy lamp was not only a life-saving invention of the time, but is still an iconic symbol of mining today. Some of them even feature in the exhibition telling their stories themselves.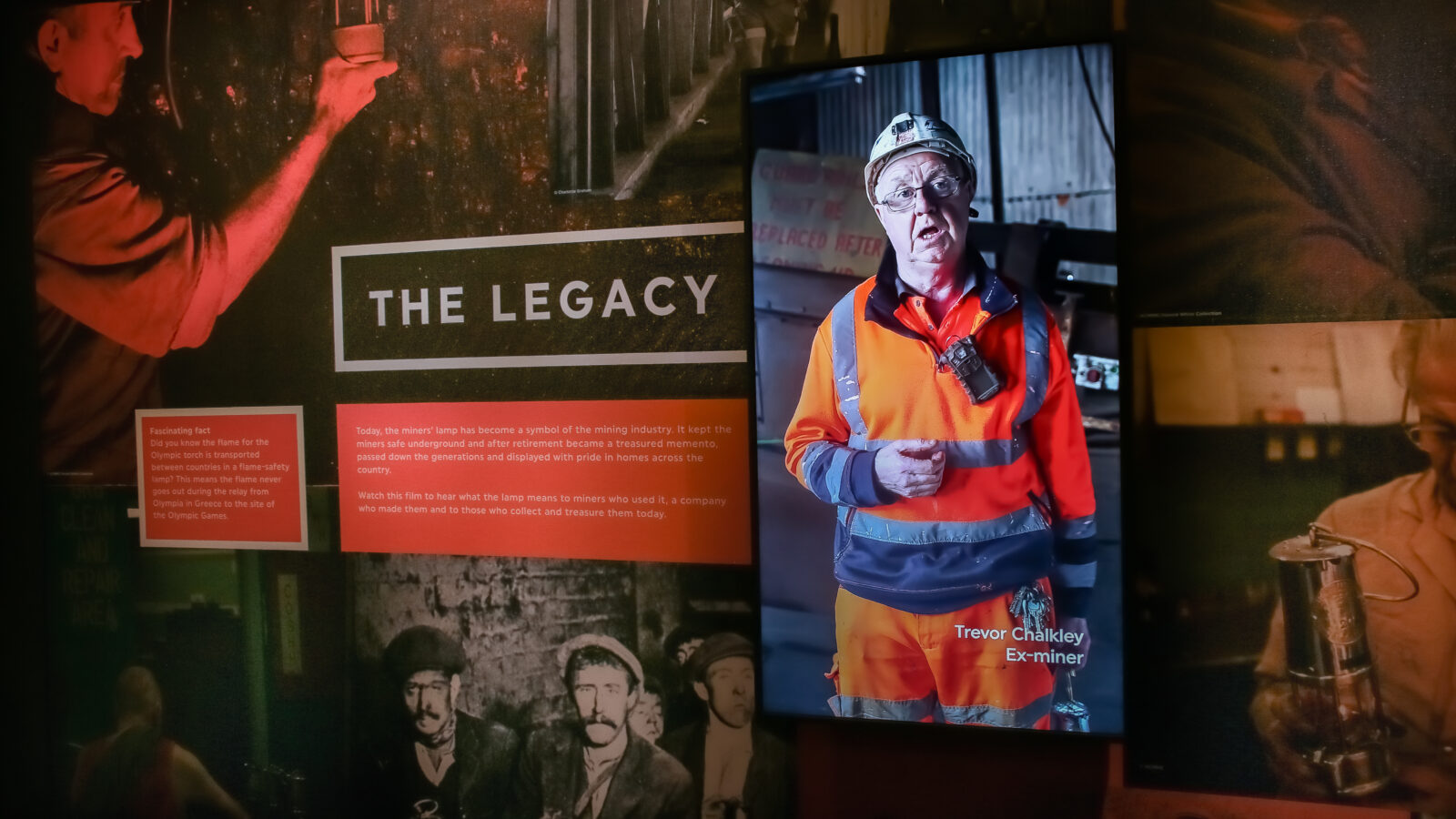 Colour can really make a space pop – inspired by the colours of the flame and paired with the old illustrations, our graphic design created a contemporary space for visitors, old and young, to dig into an important part of mining history. They shine out of the darkness attracting visitors over to read the content displayed.
Textures across the exhibition are inspired by the materials that surround the miners underground. The coal effects on the graphics and the wire gauze around the space all work to take visitors into the environment where it all takes place.
"It has been fantastic working with Mather & Co on this project, their imagination and vision has helped us to create a beautiful space."
Stephanie Thompson, Project Manager of NCMME


To put a spotlight on the exhibition's key object, Davy's Flame Safety lamp, we encased it in its own giant lamp setwork inspired by Davy's initial lamp designs. The Evolution Wall features a beautiful mass display of mining lamps, all inspired and evolved from the Flame Safety lamp designed by Sir Humphry Davy.
Developing how we tell the story in the space is the fun bit. Working with the curators, we decided to use the process of problem-solving as our inspiration, from realising the problem, exploring and testing ideas to finding the perfect solution.
Even though the previous exhibition was completely removed, we reused many of the structures and repurposed the showcases to forge a brand new experience.
Fit out partners