The new visitor offers are spread out across the 5-acre site, including the National Horseracing Museum, art galleries displaying the British Sporting Art Trust collection, interactive stables displays and live horses through the Retraining of Racehorses Charity.
We wanted the new museum to appeal to a wide variety of people from the avid horseracing fan through to families with no knowledge of the sport. Accessible interpretation layered in different formats creates a mix of activities for people to do whatever their interests.
"The National Lottery Heritage Fund is delighted to have played a role in the opening of this wonderful new cultural destination."
Ros Kerslake, Chief Executive of National Lottery Heritage Fund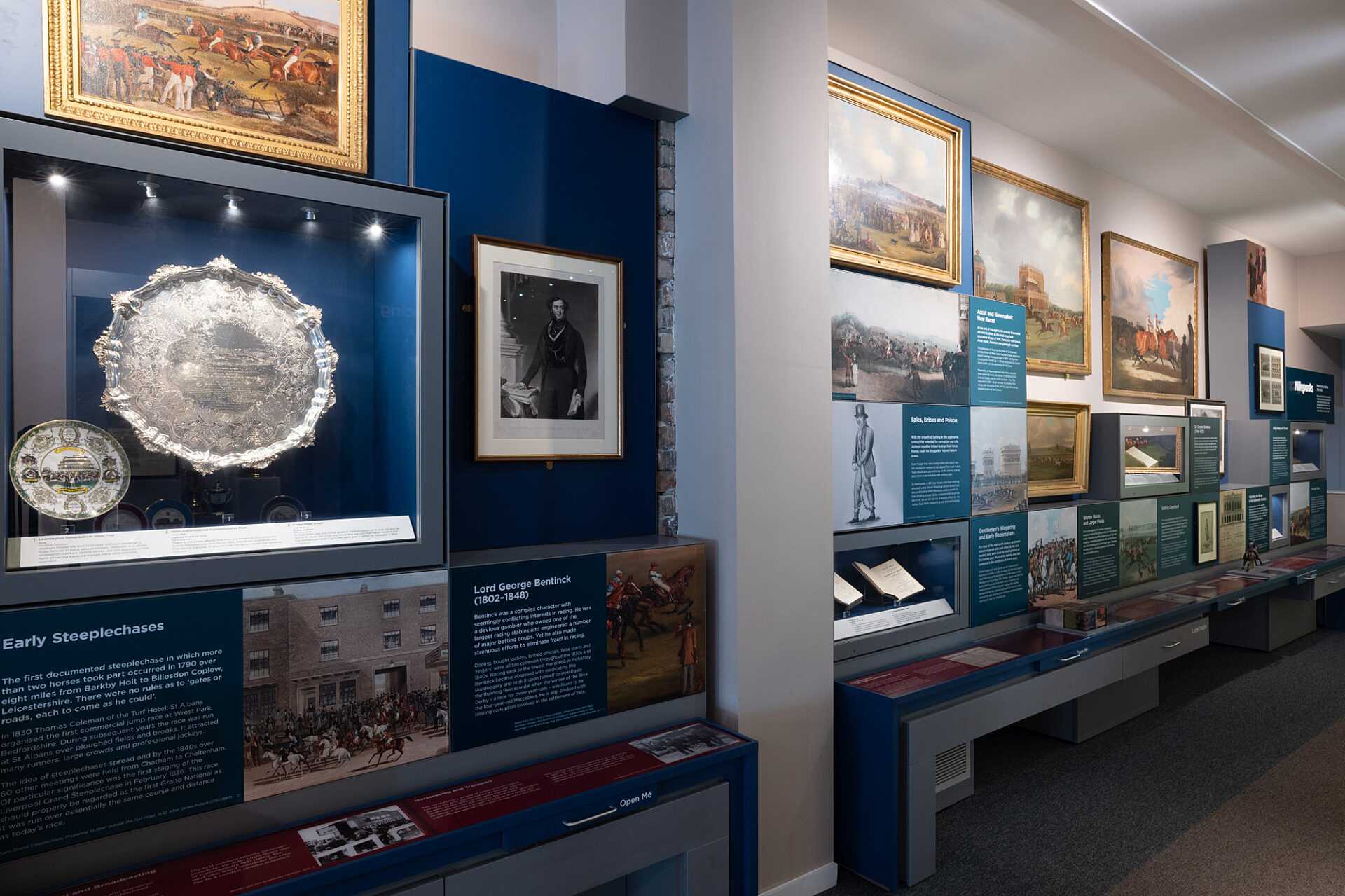 The 12 galleries showcase the internationally significant museum. Heritage objects, paintings, trophies, silks and other memorabilia are beautifully presented and interpreted using the latest interactive and audio-visual technologies. The result is a fascinating and intriguing journey through the history of sport.
In the Maktoum Gallery of the Thoroughbred visitors can explore the science behind the racehorse with an immersive display that looks at the anatomy of a thoroughbred. Interactive and tactile displays allow you to x-ray scan, dissect and investigate the biology of a horse in microscopic detail.
"We're thrilled to be one of only five museums and galleries across the country to be nominated for the Art Fund Prize."
Chris Garibaldi, former Director of the National Horseracing Museum
"We are very pleased with the work that Mather & Co has done for us. They have continuously shown flexibility to the needs of the museum."
Chris Garibaldi, former Director of National Horseracing Museum
Heroes and legends of the sport are celebrated in style through immersive audiovisual shows. Frankie Dettori and commentator owner Clare Balding take visitors on an immersive journey through the great moments of the sport.
The Rothschild Yard has been restored as a home to the Retraining of Racehorses charity, allowing visitors to get up close and engage with live horses as part of the visitor experience.
The Kings Yard stables also includes displays that explore veterinary, racing silks, naming a racehorse and the life of a jockey. The popular racehorse simulator is also housed in one of the stable boxes for visitors to have a go on and enjoy.