The collections on display represent over
70
years of racing at Silverstone
We wanted to bring the extensive heritage and engineering of Silverstone and British motor racing to life through the creation of a dynamic, interactive, and educational visitor experience in a former World War 2 hangar on site.
"I can't believe that you've managed to turn a WW2 hangar that was pretty cold and dusty two years ago into this remarkable experience."
Prince Harry, Duke of Sussex
The Silverstone Interactive Museum features extensive exhibition galleries, an on-gallery TECHLab, a Collections and Research Centre, Learning Studio and a series of site tours, programmes and activities, for a wide range of visitors.
To begin the experience, visitors enter the starting grid where they are plunged straight into the action. Lights out and cars and motorbikes from all eras speed past itching to start the drive ahead.
Silverstone Interactive Museum contains
86
digital media experiences
The journey is centred on the twists and turns of a lap of Silverstone, and visitors are placed at the heart of the experience. At each corner there is something to learn, from the history of the circuit and the origins of the corner names, to the high-tech operations and engineering behind the F1 and MotoGP teams. There is something for everyone, whether you are an avid fan or just coming for an exciting day out.
"The Silverstone Interactive Museum is a great way to inspire kids to look more closely at the automotive industry."
Sir Lewis Hamilton MBE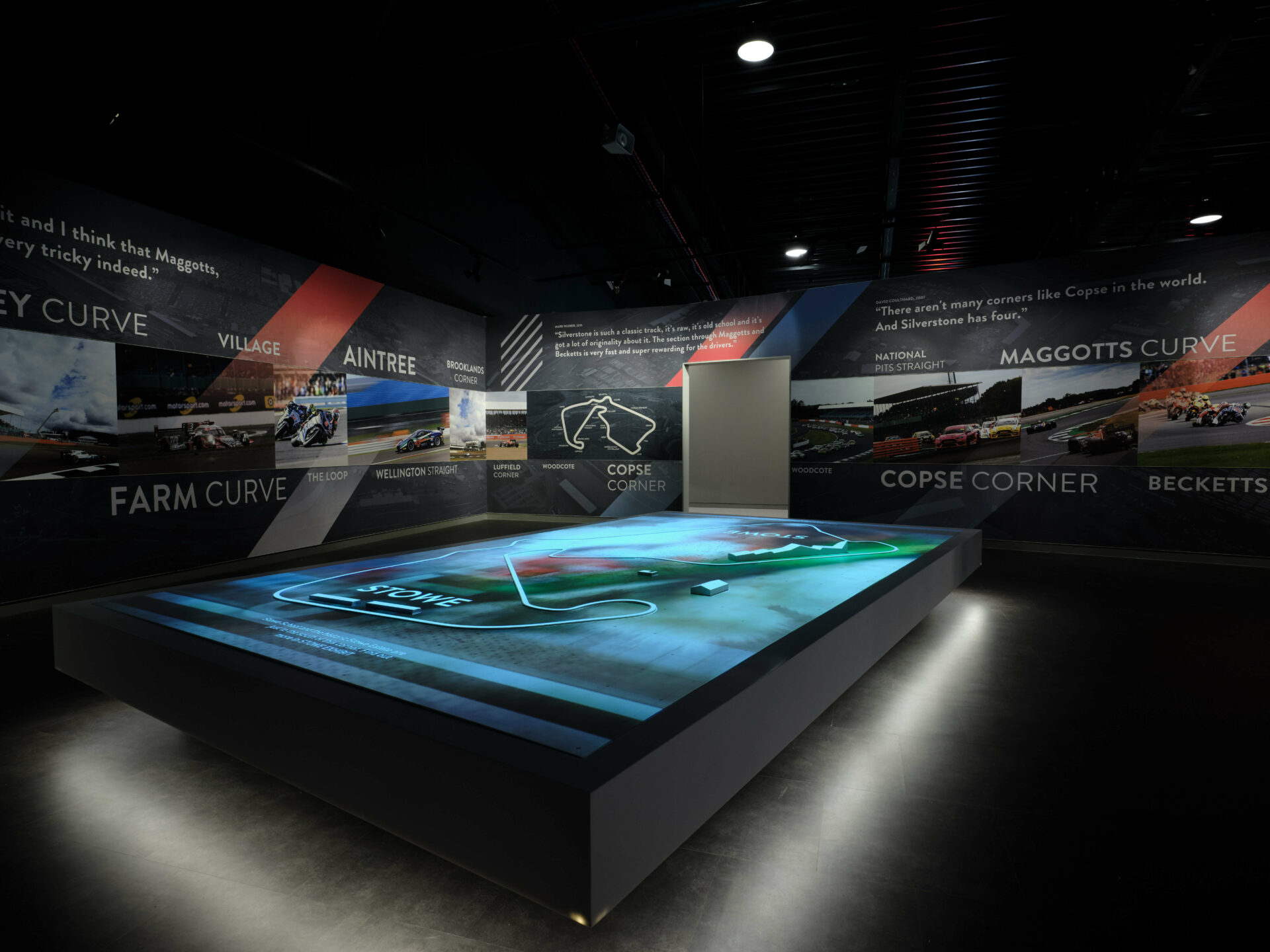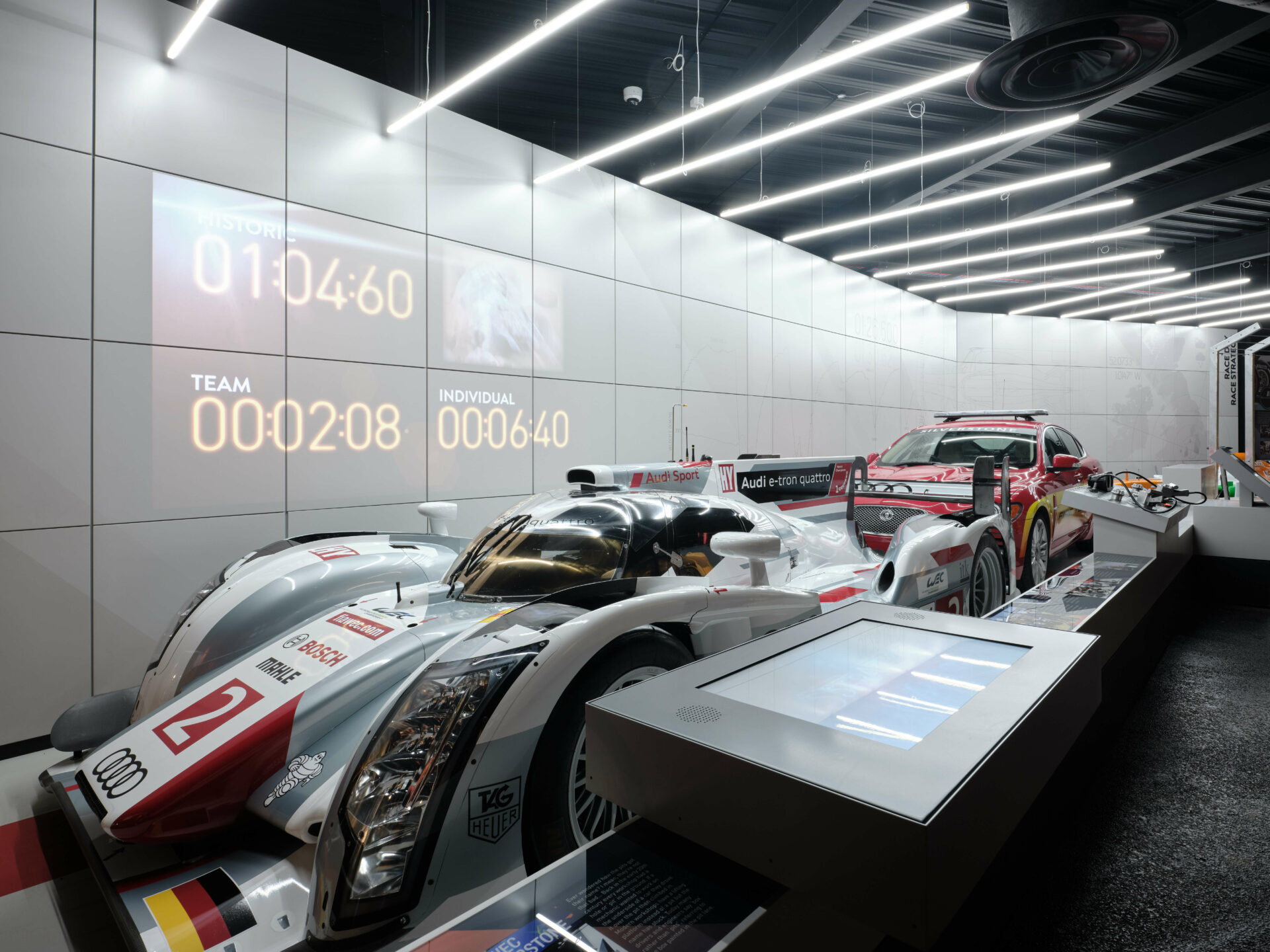 We are passionate about sport and know how to show it at its best. Interactives pepper the route keeping visitors entertained and helping to explain complex content in a fun way. Our show-stopping 'Racing Eras' gallery includes large-scale cars and motorbikes in context, brought to life using high impact graphic backdrops, giant AV projections and dramatic lighting.
We created the dynamic new brand especially for the museum, inspired by the heritage of the site and motorsports. The classic motor sport colours and RAF-inspired shapes and layouts create a bold, dynamic branding which is full of energy.
The TECHLab includes a series of interactive stations, where visitors can explore the engineering behind car and motorbike design. We worked with industry specialists and the local Silverstone Technology College to develop the space, so it could host school class visits and workshops, encouraging STEM learning and advertising careers in motor sport.
20
activities to try out within the museum
We put visitors in the driving seat in our 4D film dome. They prepare and take on the ultimate lap of a lifetime against iconic cars, motorbikes and even a Wellington Bomber. With voices of commentary favourites Murray Walker, Martin Brundle and David Croft, visitors get to end their Silverstone experience on a high, before taking their place on the winners' podium.
"Some of the projects that we've supported are real game changers and the Silverstone Interactive Museum is definitely one of those."
René Olivieri, interim Chair of the National Lottery Heritage Fund